Fall car damage from acorns and other nuts.
Acorn dent damage and damage from other nuts falling on vehicles during the fall is common. New England has many trees that produce nuts, including hickory, chestnuts, black walnuts and hazelnuts to name a few. And while the fall conjures up fond memories of frost on the pumpkins, apple cider and hayrides, it's also a hazardous time for your car if you park under a nut-bearing tree.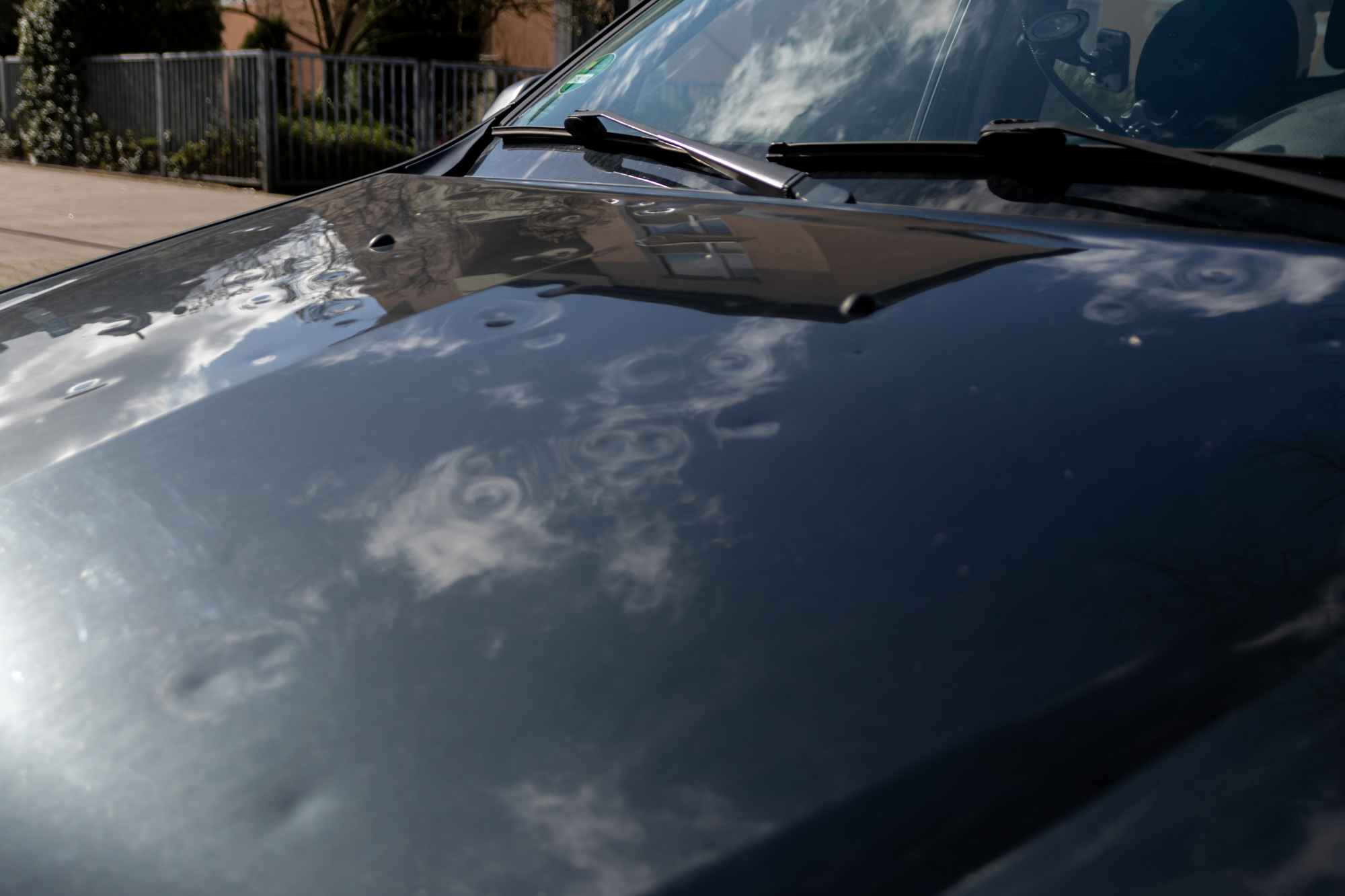 Repairing Acorn Damage
Typically, acorn damage is a good candidate for paintless dent repair (PDR). Why?
The depth of the dent and whether the falling nut cracked the paint are the guideposts for repairing dents with PDR. Today's vehicle manufacturers use a type of paint that has greater flexibility than the type of paint that was used decades ago. This means that PDR specialists can easily use their tools to massage the dent and remove it. Whenever you have a dent, it's a good idea to have it removed as soon as possible so the damage doesn't worsen.
When dents are deep and the paint cracks, repair requires bodywork rather than paintless dent removal. We can usually fix dents caused by acorns or other types of nuts falling on your vehicle.
Whenever PDR will work to repair a dent, you should choose PDR over bodywork. It's less expensive and a faster repair method.
What Can You Do to Prevent Acorn Damage?
Carsupercare.com recommends the following to protect your car from falling acorns:
Park your car away from an oak tree. To dent a car, acorns must fall directly onto it. However, parking at a distance from the tree may not always be practical, especially if there are a lot of oak trees and few parking spaces away from them.
Use a car cover to protect against dents. As long as the acorns aren't too high up on the tree or too large, a protective cover will shield your car against falling acorns.
Use a car umbrella. A car umbrella attaches to the car roof and can protect it from falling objects. You can take car umbrellas with you and use them wherever you park.
Build a garage. For people with homes and oak trees on their property, building a garage and parking your car in it when not in use is a good solution.
Build a carport. If a garage isn't feasible, consider building a carport.
Erect a car canopy. The difference between a carport and car canopy is that a canopy has four supports and a carport can be built against a wall and have two supports.
Cut overhanging tree branches. Cutting branches around your home so they aren't directly over where you park is another possible solution.
Do You Need to Repair Acorn Damage?
Get in touch with us. You can use your mobile phone to take photos of the acorn damage. Simply fill out our contact form and attach the images. Or if you prefer, feel free to call us at (631)590-5003.