Sports damage to cars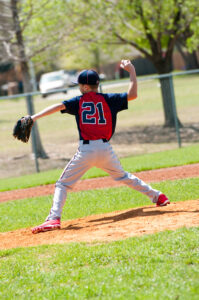 Kids, catches and car dents were the last thing on his mind. Autumn had arrived, and fall leaves lined the treetops with their brilliant hues of red, orange and yellow. He stretched, sucking a deep breath of brisk air and let it fill his lungs. While sitting on the edge of their seats, he and his wife watched earnestly as Johnny was wrapping up his ball game, their neighborhood version of the kids' World Series.
Bottom of the ninth, bases where loaded, and the game was tied up, five to five. Johnny stood in the batter's box.
Whack! The baseball flew overhead as the outfielders extended their mitts, only to watch it soar to the end of the field and into the trees.
"Look Miriam, Johnny just hit it out of the park! I tell you he's a budding baseball prodigy!"
They cheered loudly as four boys ran across home plate. The time clock had run out, and it was game over with the perfect grand finale. His chest swelled with pride as Johnny ran to their side, and they headed out of the park toward their spanking new Ford Explorer.
Oh what a day and how he loved that SUV, pristine with a sheen that glowed in the morning sunlight. But as he reached the vehicle, his heart sank and his stomach twisted into a knot. Johnny's baseball was lying on the ground, and a fist-sized dent crowned the Explorer's hood, lying smack in the middle.
Sound familiar? Dents happen.
You're not the first to have a ball dent your vehicle after parking near a sports area. Baseballs, golf balls, tennis balls, and soccer balls—you name it—they often smack into cars and leave their dents and dings.
Paintless Dent Removal to the Rescue
At Evantage, we use paintless dent repair (PDR) to remove your dents and restore your vehicle to its previous state. Insurance typically covers sports damage, and within a few hours the work is done. Better yet, our technicians can come to you.
Snap an image of the damage with your mobile phone. Get in touch with us. Fill out our contact form and attach the images. We'll give you a quote. Or if you prefer, just give us call at (631) 590-5003.