What should you know about PDR?
While paintless dent removal (PDR) has become more and more common, many people have questions about it.
What does PDR stand for?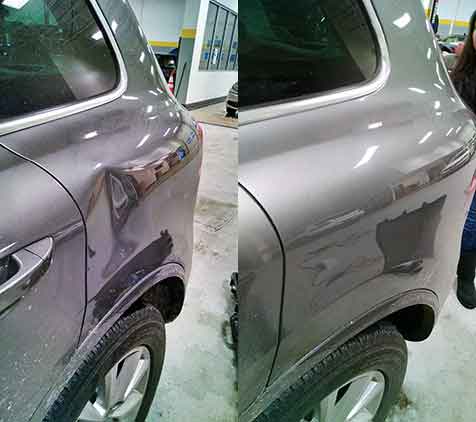 PDR stands for Paintless Dent Removal or Paintless Dent Repair. It is a technique for removing dents and dings without having to strip, grind, fill, bond or repaint the vehicle. Technicians use special tools to massage minor dents or dings out of the vehicle's panels.
Does PDR damage the paint?
No. Fortunately, the paints that manufacturers use today are much more flexible than they used to be. We restore the damaged body area to resemble factory condition.
Can you remove any dent or ding?
No, we can't. We can remove minor dents that aren't too deep. The problem with deep dents is that the metal is often too stretched to massage back into place. In addition, deep dents with cracked paint aren't good candidates for PDR. However, ironically, the size of the dent might not matter as long as it isn't deep. We have removed shallow dents that are as wide as basketballs.
The dent's location is sometimes also a factor. It's difficult to remove dents at the edge of some panels or in the front of certain hoods.  A dent at the edge of a panel opening may also be difficult to remove.
What advantages does PDR have over a body shop?
PDR work is much faster than traditional body work. With PDR, our technicians can often fix the damage in less than an hour, or at the most, within a few hours.
As the saying goes, "time is money." Because PDR is so fast, it's much cheaper than body work. While your car may sit for several weeks at a body shop, you're in and out quickly with PDR.
The quality of work is also an advantage. There are no problems with matching paint. In addition, your car won't suffer from paint shrinkage or other problems that sometimes occur later on after body work.
Also, because PDR doesn't use chemicals or toxic substances, it is very environmentally friendly.
Schedule Your Paintless Dent Removal (PDR) Appointment Today
To contact us online, enter your information into our contact form. The form has an area where you can attach photos of the car dents. This is optional. We'll get back to you with a quote. Or, if you prefer calling us, our number is (631) 590-5003. We're happy to answer your questions and schedule your repair.