Can Hail Damage Be Repaired?
When it rains it pours, and at times, even worse—it hails. Hail pelting vehicles during a storm can create significant damage to the body of a car. Furthermore, hail comes in a variety of sizes. It can fall as large ice chunks the size of golf balls or baseballs or in pellets the size of peas. Obviously, the sizes of hail and the dents it creates can make a difference in the repair. However, the depth of the dent is often the most vital factor when determining whether PDR (paintless dent removal / paintless dent repair) or bodywork is the answer.
Whenever possible you will want to use PDR. Why?
It's usually less expensive than bodywork.
It has a faster turnaround time. Your car won't sit in the body shop for a week because PDR can usually be done in a day.
There's no need for filling, sanding, priming and matching the car paint.
Whether you will need body work done or whether paintless dent removal will do the job, depends on the dent. Deep dents or dents where the paint has cracked require bodywork. PDR can safely remove dents that are shallow where the hail hasn't cracked the paint.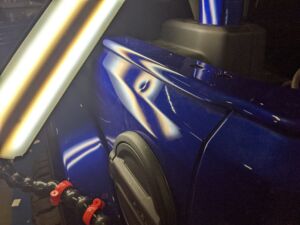 Repair Your hail damage with PDR
While some dents may need body shop work, many dents and dings are candidates for PDR. For over 22 years, Long Island auto body shops, car dealerships and truck repair shops have trusted Evantage. Now we can bring our expertise directly to you. For dents with minor or unscratched paint, ask us about PDR. If you would like an estimate, please give us a call at (631) 590-5003 or fill out our free online quick quote form, which allows you to upload images.
How Does Hail Damage Removal Work?
Paintless dent repair is done by manipulating the metal and working out the dent from the inside of the car body. On newer cars, metal is more flexible than with older models. In other words, when subjected to impact, the metal stretches, and this also prevents paint from easily cracking. Our technicians have the proper tools to work out the dents, saving you time and expense.
How Does PDR Help with Car Value?
Another advantage with PDR is it does not require filing a report with Carfax. Why is that significant? It means that your car will hold its value. When you trade in a car, a Carfax report that shows the car suffered damage and was repainted, which lowers the car value. Even when there is no Carfax report, evidence of repainting would create a loss in value. This is especially true with an expensive car model.
Will Insurance Cover the Repair Work?
If you carry comprehensive insurance, it should cover the repair. Comprehensive vehicle insurance covers damage that does not involve collision, typically covering damage caused by fire, wind, hail, flood, theft, vandalism, etc. It's also likely that your insurance rates won't go up because of hail damage repair. As in any repair, you would have to pay the deductible, but your insurance company would cover the remaining charges.
We can work with you and your insurance company and provide you with an estimate for the repair. Take photos of the damaged areas, fill out our contact form and attach the images. We'll be in touch. Feel free to call us as well at (631)590-5003.