Truck Dents: A Great Way to Restore Your Truck
We're sure that truck dents are not what you had in mind when reading truck descriptions that say "tough exterior" and "rugged performance." No matter what type of vehicle you drive, dents can reduce the vehicle's appeal and reflect directly on your customer or client's view of your business and your professionalism. And after dents are removed, many vehicles may look like new.
Whether the dent in your truck resulted from an auto accident, hail damage or a shopping cart, PDR is often an option. Not only is it an option, it's often the best option.
Leave your truck's "rugged" features to the four-wheel drive and V8 engine — not the dents.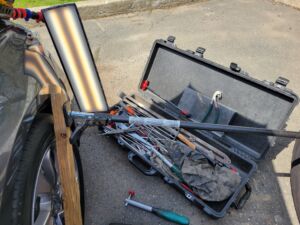 Repair Your Truck Dents with Evantage Paintless Dent Repair and Removal!
Do you want to get rid of your truck dents? Repair your truck the fast and easy way with PDR. For an estimate, give us a call at (631) 590-5003 or fill out our online free quote request form, which even allows you to upload images directly from your mobile phone!
Why should you consider Paintless Dent Repair before traditional body repair methods?
Time is likely the biggest factor with costs running a close second. Depending on the size of the dent, our technicians can usually remove it in as quickly as an hour. This means you won't have to leave your truck overnight and rent a vehicle in the meantime. Moreover, we can come to your jobsite or industrial site so your truck is never out of commission.
By comparison, traditional body repair involves a more complicated process. Technicians sand off the paint and pound the dent out of the metal surface. They bond the surface by filling in spaces with putty and sand the bonding to create a smooth surface. Then they must match the paint of your vehicle to the manufacturer's color, which isn't necessarily an easy task. The last step involves painting the vehicle.
What are some tips to avoid getting truck dents?
Pay attention to the vehicle next to you. When vehicles are at similar heights, the rubber moldings on your truck may protect it from getting dings. Also, you can gauge the space and door length between your truck and the next vehicle. Is there enough room for the other vehicle's driver or passengers to open the door without bumping your truck?
Choose end/remote spots in crowded lots.While farther away from the entry of your destination, choosing an end spot often means fewer cars parking next to you. That can reduce your chances of getting dinged. If the parking lot is crowded, you might want to consider remote parking, even further away from your destination.
Park straight.When you park at an angle or crooked in a parking space, you may not leave enough room for the person parking a vehicle next to you.